Traffic is a great source of conversation now ain't it? Even a pathetically bad conversationalist such as me can sustain a conversation of traffic for well over 2 minutes! I know! Unbelievable right?
Though, while talking to people, I've noticed that most don't make interesting or very observant comments about traffic at all. Yet, I know that these are things that everybody knows, but never really say. So I figured I should do the honours.
Ok. Here goes. Things about traffic you always knew, but never really said out loud:
1
. Auto Drivers always think that from all the horns blaring around them, none of them are aimed at them.
2
. Car drivers hate Bike Riders while stuck in traffic because riders get to squeeze by more easily.
3
. Bike riders hate Car Drivers because drivers get to sit in AC while they're out in the sun (rain, smoke, or dust)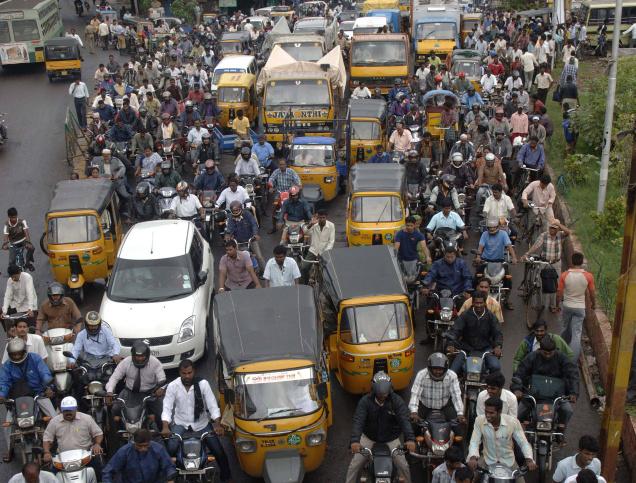 4
. Bus drivers are sadistic bastards since they don't have AC nor can they squeeze by. They purposefully squeeze you out of every inch of road you have if they can help it.
5
. Just as the light turns green, there is that one last pedestrian fucker who always HAS to run in front of you just as you're taking off. Always!
6
. Traffic Policemen are the most useless cadre of public servants ever. They don't do a good job with traffic control in the first place, AND they end up stopping all the sane riders, asking for papers and alcohol consumption details while the drunks, fanatics, racers and Ghost Riders fly around killing and maiming people.
I'm sure there are so many more patterns in the chaos that is traffic. I just remembered something about the Chaos Theory. Anyhow, there is sure to be part 2 for this. Keep reading. :)
(Image Courtesy: LiveChennai.com)